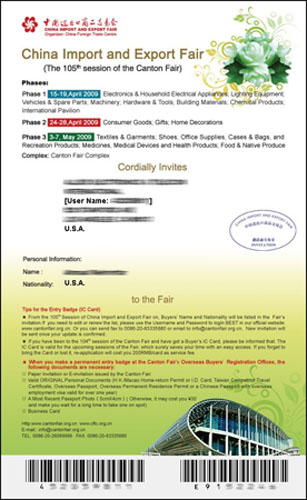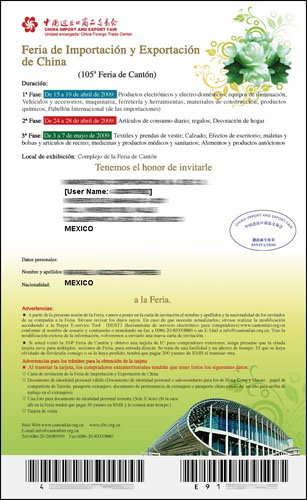 International visitors to the 2009 Canton Fair may face some new obstacles in preparing for their trip. New visa requirements are in place in China since the 2008 Olympic Games. Visitors are required to apply for their visas in advance and must have a business-related invitation letter along with their Chinese hotel booking and return flight information. Gathering all of these items can be a challenge, but Wentrip.com, a distinguished travel company based in Guangzhou, is uniquely prepared to help visitors attending the Canton Fair.
The China Import and Export Fair, commonly known as Canton Fair, is China's oldest and largest comprehensive trade fair. Held twice each year, the fair includes a large variety of exhibits and draws businesspeople from more than 200 countries. During the Fair, travel to Guangzhou is at its peak and travel agencies are busy handling the influx of visitors and requests.
Wentrip.com is one of only a few agencies who have a professional Canton Fair Division dedicated to serve visitors to the Fair. During the Fair, all of the travel agencies in Guangzhou are at their busiest and most of companies must hire short-term workers or students to handle the load. But Wentrip's Canton Fair Division is made up of only highly-efficient and experienced full-time workers. These professional service personnel have mastered the various fair-related issues.
Beyond making the usual travel arrangements, visitors to the Fair must apply for a Chinese visa which requires obtaining a letter of invitation. "A new policy for the 2009 Spring Fair requires the visitor's name and nationality to be on the invitation," says Ken Lin, manager for the Canton Fair Division of Wentrip.com. In the past, the invitation was sent directly to the company without an attendee's name on it. "Visitors are now required to provide their passport number and nationality when applying for the invitation."
Application for the invitation can be made in two ways: by E-invitation over the internet, or by written request. Many visitors have found it difficult to apply for the E-invitation due to server downtime, slow connections and errors. To make this application easier for visitors, Wentrip.com provides a free E-invitation application service to guests upon making a hotel reservation. "We can apply for the E-invitation for our customers," says Ken Lin. "Only a few travel companies provide this level of service."
Credit card fraud is another concern for guests traveling to China, and many are reluctant to send copies of their credit cards to travel agencies in China. Wentrip.com allows guests' credit card payments to be processed in the United States, utilizing advanced technology to protect their customers. The customer is protected by U.S. laws, providing a more secure way for travelers to pay for their needs.
The Canton Fair is an event that businesspeople do not want to miss. Wentrip.com is poised to help them overcome the obstacles to international travel so travelers can focus on business. Their professional service agents are thoroughly familiar with Guangzhou, its hotels and streets and the manner in which business is to be conducted. Their knowledge of the Canton Fair and their extra services are sure to make traveling to the Fair easier, safer, and more enjoyable for their clients.