Friday, September 25th, 2009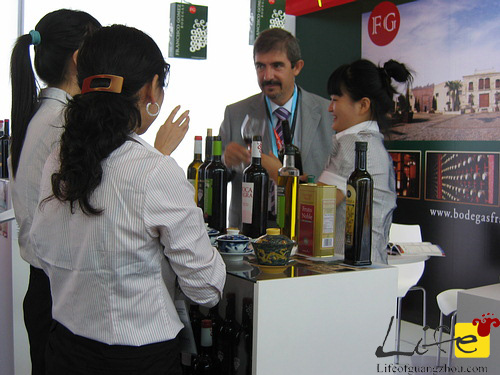 Wine and olive oil gain from Spain large expectation in the 6th CISMEF. 
The sixth China International Small and Medium Enterprises Fair (CISMEF) opened yesterday in Guangzhou's Pazhou Complex. The 4-day fair will be presenting over 6,000 companies including 1,500 foreign companies. The fair includes 13 zones covering food and drugs, toys and crafts, textile and clothing, electronic appliances, hats and bags, energy-saving goods, furniture and lighting, machinery, ceramics and building materials, tea, financing, and e-commerce.
Spain is this year's highlight presenting over 150 local enterprises to visitors. The 10,000sq meter Spanish hall is separated into four parts with a government section, famous brands section, enterprises section and the theme section. The low-profile hi-tech projects, beautiful tourism resources, unique architectures, and delicate food such as cheese, wine and olive oil from the romantic Spain gain more recognition in this SME fair.
Spain is the 8th largest economic power in the world, having a booming economy in the fields of agricultural product processing, aerospace and aviation, new energy and tourism. There are now more than 600 Spanish enterprises in China. Most of them are located in Shanghai, Tianjin, and Beijing.¼br>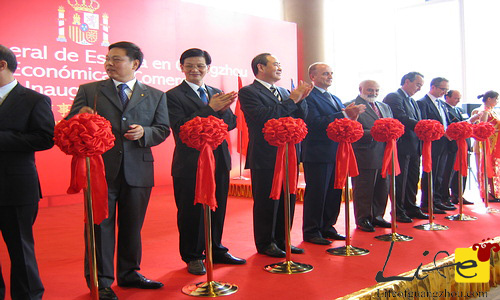 Spain just opened a Consulate General in Guangzhou's CBD Zhujiang New Town on September 21st.

On September 21st, Spain opened a Consulate General in Guangzhou. Located in the CBD Zhujiang New Town, both the Economic and Commercial Office and the Tourism Office opened that day. Mr. Miguel Sebasti¡§¢n, Minister for Industry, Tourism and Trade of Spain addressed the opening ceremony that "The newly-launched Economic and Commercial Office is to promote friendship and cooperation between Spain and China." He also said that Guangdong has huge economic potential which is presently very appealing to Spanish enterprises and the establishment is not only to bring Spanish enterprises to China, but also to promote investment from China to his motherland.
for more information, please visit Canton Fairs